Dubai Expo 2020- Epic Fireworks Cap off Day 1 of World's Greatest Show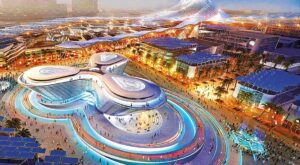 Dubai Expo 2020 finally opened its gate to visitors on 1st October 2021. The first day and opening ceremony lit up the sky with fireworks. Thousands of visitors rushed towards the Expo site to visit the splendid event. 
Even though Covid-19 led to a delay in the event, it didn't lower the UAE's will and determination. They continuously strived to make the event possible and memorable. And undoubtedly, they have been successful so far. 
With more than 2000 days of planning, Dubai started Expo 2020 on a bright note. The Pointe in Palm Jumeirah had a bright night sky filled with the colors of fireworks.  
Safety & Security Measures at Dubai Expo 2020
The celebrations of the opening ceremony and the first day of Expo 2020 aren't the only things to consider. The UAE government has also taken special steps to ensure visitors' safety and security. 
Thousands of CCTV cameras and a huge network of security personnel are providing security to visitors. Furthermore, special arrangements have been made to deal with events like flooding or fire. 
After rigorous training and meticulous planning; firefighters and first respondents have been located at spots so that they can reach within 4 minutes of an emergency. Several fire stations are also present on the site to deal with major accidents. 
Furthermore, a huge network of smart devices, fire alarms and sprinklers has been installed. These devices include sensors that regularly monitor the temperature of the surroundings. Moreover, the devices also include sensors for smoke and fire detection. So, in case of any fire, the sprinkler systems will activate and notify the control center. 
Fire Safety in the UAE 
Expo 2020 site isn't the only place with such smart firefighting systems. Many public places and organizations in the UAE rely on such firefighting systems to keep people safe. A wide range of such products can be found at Fireman Safety Services. 
They offer retail, installation, and maintenance of different firefighting devices and setups. So get in touch today and make your place safe too.