Fire Fighting Systems
Dry Powder Fire Extinguisher
Often termed 'multi-purpose' extinguishers as they can be used on FLAMMABLE SOLIDS (such as paper, wood, plastic etc) FLAMMABLE LIQUIDS and FLAMMABLE GASES (but it is NOT usual to extinguish the flame of a gas fire). Also safe on LIVE ELECTRICAL EQUIPMENT. HOWEVER we do not recommend dry powder extinguishers for use INSIDE BUILDINGS as they are very messy and can damage electrical and mechanical equipment.
All extinguishers are fully re-chargeable, and serviceable and are supplied COMPLETE WITH MOUNTING BRACKETS.
 CO2 Fire Extinguisher
Carbon Dioxide extinguishers are filled with non-flammable carbon dioxide gas under extreme pressure. You can recognize a CO2 extinguisher by its hard horn and lack of pressure gauge. The pressure in the cylinder is so great that when you use one of these extinguishers, bits of dry ice may shoot out the horn.
CO2 cylinders are red and range in size from 5 lbs to 100 lbs or larger. In the larger sizes, the hard horn will be located on the end of a long, flexible hose.
Wet Chemical Fire Extinguisher
They employ an agent that reacts with burning cooking oil or fat to form a suds-like blanket across the fuel surface, cutting off the fire's air supply and preventing the release of flammable vapours.
STORE PRESSURE TYPE
DRY CHEMCIAL POWDER FIRE EXTINGUISHER :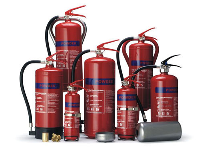 LIQUID FIRE EXTINGUISHER FOAM & WATER & WET CHECMCIAL: