Fire Safety Security Policy in Dubai Expo 2021 Key Highlights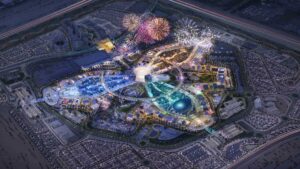 Years of meticulous planning and dedicated efforts have been invested in organizing Dubai Expo 2020, one of the premier exhibitions of 2021. Dubai Fire Safety Companies, alongside the Civil Defense, health authorities, and Dubai Police, are fully prepared to handle the event's security. With their expertise, the much-anticipated Expo guarantees a safe and secure experience for all attendees.
Artificial Intelligence and Information Technology are going to be the key players in everything from keeping the sites connected, to saving energy and offering security. Fire alarms, elevators, and security systems are all going to be "smart". 
A fire protection conference was held earlier this year to discuss the safety and security precautions of Expo 2020. Engr. Salma H. Saeed from the Dubai Civil Defense told how support will be provided for a safe and secure event organization. Moreover, international safety standards will be followed with the help of the latest technologies and apparatuses. 
The officials are ready to deal with all sorts of unforeseen circumstances including fire or flooding. For this purpose, underground tunnels have been built to tackle rainwater or flooding. 
Whereas fire teams are given months of training and strategic positioning in the site so their response time is as less as 4 minutes. Furthermore, two fire stations are also present in the futuristic city. 
At Dubai Expo 2020, a multitude of first responders will be stationed at various locations on the site. A robust firefighting network, including the presence of Dubai Fire Safety Companies, ensures comprehensive safety measures throughout the event. Fireman Safety Services will also contribute to the exhilarating experience of the UAE's grand event, prioritizing fire safety and protection.
Fireman Safety Services is one of the leading safety brands in the UAE. We have been offering security solutions related to fire accidents to the residents and businesses of the United Arab Emirates. To learn more about our services, feel free to contact us. We will be delighted to help you in any way. 
People also search for: Fire Alarm companies in UAE | Fire Fighting System