A Complete Guide to Fire Extinguisher – Inspection, Testing, and Maintenance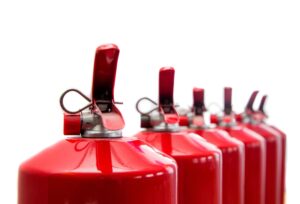 You must have seen portable fire extinguishers in UAE or Qatar at many public places. Many people might even know how to use the equipment, but that's not all about it. Just as any other equipment, fire extinguishers also need regular inspection, testing, and maintenance (ITM). Through proper ITM protocols provided by fire extinguishers in UAE, you can ensure the reliability and operability of your extinguishers. 
Let's take a look at each aspect separately and learn how we can achieve these properties in our fire extinguishers. 
Inspection
Anyone can perform a fire extinguisher inspection every month or so. However, the inspection should be more frequent if the extinguishers are installed in places where they are prone to rusting or tampering. Here are some of the things to ensure when inspecting fire extinguishers in UAE or Qatar:
The extinguisher is located at the designated spot 

It is clearly noticeable and easily available

Multiple signs are installed to show the location of a fire extinguisher

The fire extinguisher is not empty, and the pressure gauge is in an operable position

Use the push-to-test pressure indicator to check non-rechargeable extinguishers
Maintenance
Fire extinguisher maintenance should be carried out by a certified person in accordance with the guidelines mentioned in the user manual. Based on the type of extinguishers, they require maintenance exams every 1 to 6 years. These are some of the common external examinations involved:
Physical condition

Expelling medium

Mechanical parts

Extinguishing agent
Testing
The testing performed on fire extinguishers is known as Hydrostatic testing. It is important to perform internal and external examinations before starting the test. Here are the steps are done to test the extinguisher:
Remove the components until you're left with the shell and hose.

Fill in water at a certain force for a while

Dry the extinguisher completely and reassemble it

Recharge the extinguisher
The tester should be trained and certified to perform hydrostatic testing. If any leaks or distortions are experienced during the test, the extinguisher is ruled unsafe. Depending on the type of fire extinguisher, tests are done every 5 to 12 years. 
Final words
All these procedures also require record keeping, including the date of the exam and the name of the person conducting it. This guide is meant to provide basic details of ITM procedures. However, you should refer to the user guide and consult professionals to ensure safe examinations of fire extinguishers in Qatar or the UAE. 
For more details on fire extinguishers in UAE or Qatar, get in touch with Fireman Safety Services. We offer installation and maintenance services of fire extinguishing systems in Qatar and the UAE, including Abu Dhabi.